Lesen Sie diese Seite auf Deutsch
For this world is the opposite of Heaven, having been made to be its opposite. And everything here takes a direction exactly opposite to what is True.
The Urtext of Jesus Christ as Printed Book and Audiobook
June 7, 2019
Subscribe to My newsletter and get everything new by E-mail.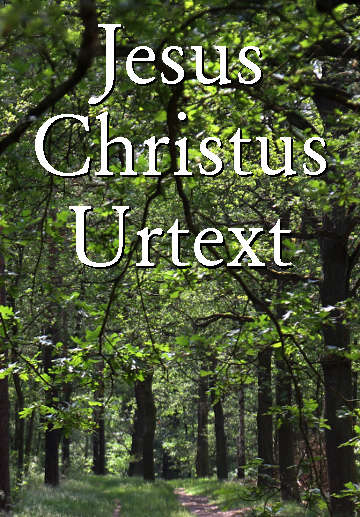 What happens next?
I do not know. Nothing happens. At the moment I do consider this world neither "exciting" nor "interesting" at all. Just like hell.
Maybe because of that I definitely fell in Love with Jesus Christ. He does not exaggerate in Any way when He says:
Ich wurde als das Ding erschaffen das Ich suche.
Ich bin das Ziel das die Welt sucht.
Ich bin Gottes Sohn, Seine eine Ewige Liebe.
Ich bin das Mittel und ebenso das Ende der Erlösung.
I was quite diligent since My last newsletter and have translated now 1/4 or 493 pages of His Urtext into German. You can download It as mp3-audiobook read by Myself immediately for a donation of at least 20 Euro from My website:
I already recorded 6 of the altogether 20 hours. This includes the complete Handbuch as well as All Besondere Botschaften. For Your one-time donation You can download lifelong the latest version whenever You want.
Additionally You can order for a donation of at least 40 Euro order the 493 pages I translated as a printed book. However It will only be printed after 5.000 Euro have been donated for it altogether. If a single Person donates 5.000 Euro that means that the book will be printed for Everyone. If You order the printed book You get the mp3-audiobook for free which You can download immediately.
What is maybe much more interesting for You is that the complete English Original with Its powerful 1971 pages or 80 hours is now also available for at least 20 Euro donation as mp3-audiobook read by Myself or for at least 80 Euro donation as a printed book. For the English Original as a printed book I wait until a total of 10.000 Euro has been donated before it is printed. But if You order the book You get the mp3-audiobook for free with it which You can download immediately.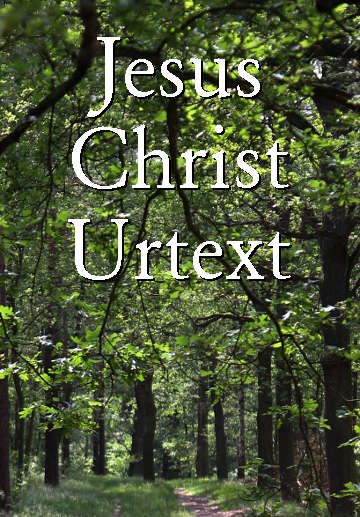 I was created as the thing I seek.
I am the goal the world is searching for.
I am God's Son, His one Eternal Love.
I am Salvation's means and end as well.
My German translation as well as the English Original will always be published free and at full length in the latest version on My website. Even if You do not order anything I would appreciate very much if You donate to My Superdigi Foundation. And maybe You want to tell Others about the Urtext of Jesus Christ Who might be interested in It or if You have an audience You could talk about It. In fact I think that It has to be the biggest talking point of every newspaper, every TV- and radiostation and of course the whole Internet. At least for a while. I would love to answer any question regarding It. But maybe Jesus Christ can do that better than Me.
He answers 14 basic questions in the Workbook. 28 further frequently asked questions are answered in the Manual by Him. I noticed that in fact the first sentence of His answer often suffices. Therefore I send You in this mail only the first sentence of the answer. You can read the rest on My website.
In full length, 6 pages, You get here His own answer to the basic question
Preview
My next focus will be to correct My German translation. I do everything totally on My own. If You want You can help Me with suggestions. But keep these two rules in Mind:
1) The content must stay the same like the English Original.
2) My German Translation must work in its own way or better than the English Original.
After that I am going to complete the German and English audiobooks.
My big dream would be, after working thousands of hours without pay, that I could make this My profession and I can make a living from it.
If something happens I will let You know.
So long,
B
Forgiveness recognizes what You thought Your Brother did to You has not occurred.
Salvation is a promise, made by God, that You would find Your way to Him at last.
The world is false perception.
Sin is insanity.
The body is a fence the Son of God imagines He has built to separate parts of His Self from other parts.
Christ is God's Son as He created Him.
The Holy Spirit mediates between illusions and the Truth.
The real world is a symbol, like the rest of what perception offers.
Christ's Second Coming, which is sure as God, is merely the correction of mistakes and the return of sanity.
Christ's Second Coming gives the Son of God the gift to hear the Voice for God proclaim that what is false is false, and what is True has never changed.
Creation is the sum of All God's Thoughts, in number infinite and Everywhere without All limit.
The ego is idolatry; the sign of limited and separated Self, born in a body, doomed to suffer and to end its Life in death.
A Miracle is a correction.
I am God's Son, complete and healed and whole, shining in the reflection of His Love.
A teacher of God is Anyone Who chooses to be One.
Certain pupils have been assigned to Each of God's teachers and They will begin to look for Him as soon as He has answered the Call.
The teachers of God have no set teaching level.
The surface traits of God's teachers are not at all alike.
Healing involves an understanding of what the illusion of sickness is for.
Healing is always certain.
This question really answers itself.
The belief in order of difficulties is the basis for the world's perception.
Changes are required in the Minds of God's teachers.
Judgment, like other devices by which the world of illusions is maintained, is totally misunderstood by the world.
This is a question Everyone must ask.
The answer to this question is "One."
Although in Truth the term sacrifice is altogether meaningless, it does have meaning in the world.
Can what has no beginning really end?
Indeed, yes!
To the advanced teacher of God this question is meaningless.
This is a crucial question both for teacher and pupil.
Correction of a lasting nature – and only this is True correction – cannot be made until the teacher of God has ceased to confuse interpretation with fact or illusion with Truth.
Justice is the Divine correction for injustice.
It has been said that there is a kind of Peace that is not of this world.
Strictly speaking, words play no part at All in healing.
Healing and Atonement are not related, They are identical.
God's gifts can rarely be received directly.
In the ultimate sense, reincarnation is impossible.
The answer to this question is much like the preceding one.
God indeed can be reached directly, for there is no distance between Him and His Son.
Death is the central dream from which All illusions stem.
Very simply, the Resurrection is the overcoming or surmounting of death.
My body disappeared because I had no illusion about it.
Problem: You have denied the Love of Your Life because You have denied Your Self.
You might also be interested in
Contact
Bodo Schlecht: info@superdigi.org